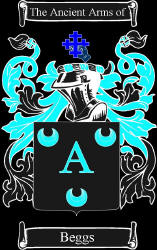 "BEGGS was first used as a surname among the ancient Scottish people known as the Picts. It was a name for a person who was small of stature or little, deriving from the Gaelic word beag.
Spelling variations include: Begg, Beg, Begge, Beggs and others. First found in Invernessshire, where they held a family seat from ancient times, long before the Norman Conquest in 1066 A.D. Some of the first settlers of this name or some of its variants were: Miles Begg who settled in Virginia in 1716; William Begg settled in Charles Town in 1767; Adam Beg settled in Boston Mass. in 1768; Thomas Beggs settled in Virginia in 1650.
The Picts were a mysterious warrior people of ancient Britain. According to tradition, the Picts migrated from the shores of Brittany around the 15th century BC. They sailed northward to Ireland, but were refused permission to settle there by the ancient kings of that land. However, the Picts were granted permission to settle in the northeastern part of Scotland on the condition that each Pictish king marry an Irish princess, thus providing the Irish with a colony whose rulers were of royal Irish blood. This Pictish settlement was ruled by a matriarchal hierarchy unlike any other form of government in British history."
Source: Beggs Family Crest