Tricia Thibodeaux Baar
Tribute
a baby cries. she is me.
birdshit on a windshield. a speck of dust
defies an eyelash. a tear
obscures the black cat who makes it
intact but ungrateful to the curbside trash can.
discarded chinese in paper lanterns:
tiny corns in lobster sauce. I am born.
for this moment everything is.
a star blinks, astonished, a cow
leans against the fence which groans.
methane warms the pasture;
lightning bugs blush at the overture,
glittering, from the owl's advantage,
secret inside the treeline.
I look around.
flowing backward the sap runs
into the ground, seeping into history.
worms return the dead who stare blankly,
rise as ancestor legion, chant
the song of my birth. aware of my arrival.
I know nothing, but hunger.
I cry. All the robins of ever
cry back. I move the world.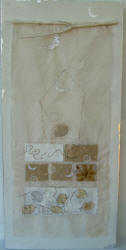 Snow Meditation 2
By Nancy Dunaway