Michael Gills
Oratory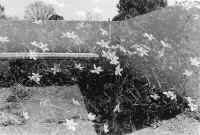 Cooper Smith worries a sore inside his mouth, watching Yvonne flip into a turn at the deep end where the boards are. Into her mile, she sprawls under the pale for six, seven meters, then ruptures it, a fierce butterfly. God, she can swim. This, Easter weekend. They are alone inside the natatorium of the college where Cooper lectures. Outside, the deserted campus is delirious. Dogwood ignites the blue sky. But this building was built before the war; it is dim, and the air smells like onions seized up from root dirt.
Cooper has hidden himself behind the aluminum bleachers that are piled against a long, windowless wall. From where he crouches, he can hear the squelched slaps of his wife's rhythm on the water. She whales into another flip, stretches against the pool floor with amazing grace. Yvonne's hands, far in front of the glint cast from her green goggles, are laced together as if in prayer.
***
He was writing a death notice when they met.
1981. The year Cooper dropped out, got his nose broken, and took a job writing obituaries at the Democrat in Little Rock. He made five dollars an hour typing formal obits, phoned in from homes around the state. People died everywhere. He fielded calls from Texas, Louisiana, Idaho, Tanzania announcing the departed who had roots in Arkansas but had passed on strange soil.
Late in the afternoon, when people had manners enough to quit dying, Cooper handled Washington press releases. Yvonne was a congressional aide for an Arkansas man named Mayfield that year. She called the Democrat that day to dictate a press release from the Capitol Hill office. The switchboard operator put the call through to Cooper's desk.
"Name?"
"Yvonne for Mayfield."
People lived their whole lives, died all day, got killed in car wrecks, were Rotary members, Masons, Lutherans, carpenter's wives, truck drivers, preceded in death, sisters, brothers, husbands. "Yvonne Mayfield? Who?"
"Yvonne." The woman's voice.
"Go ahead."
"To whom am I speaking?"
"Cooper," Cooper said. "I'm in obits." He could hear background office noises: a phone ringing off the wall, Xerox, voices.
"I don't know you."
"Prove it."
Cooper read from the top of the pile. "James Daniel Turner died Sunday. He was a Baptist." His shift was from two in the afternoon until ten at night. Holidays were hell. Suicidal. "Turner, 24, of Lonoke, was a graduate of Ouachita Baptist University in Arkadelphia. You want some more? I do press too."
She said, "Hold." And then he heard her, dictating a story about how Mayfield's constituency in Hope, Arkansas had loaded two Volkswagen-sized watermelons onto a flatbed truck and had them hauled up to the front steps of the Capitol. Congress was issued knives, carved them up right there and ate every bite down to the rinds.
T-shirts with HOPE MELONS printed in big pink letters across the chest were issued. Everyone wore them, chomping seed, chewing. Cooper pictured it, sweet juice going sticky in the afternoon sun, hot August, fragrant sun on summered legs, skin, light. He was lonely, terribly so.
"Guess what Congressman Mayfield said. My boss. Your elected rep. Are you listening? Guess?"
Out of habit, Cooper had typed everything Yvonne had told him into the form of an obituary—here was a structure, order-logic, hierarchy. He looked at what he'd written.
"What'd he say?"
"Nice melons. He pointed at my tits. He referred to my breasts as melons. What's with you people down there?"
"I'll kill him."
Yvonne said, "I already did. Write me a letter, Smith. We'll correspond. I know you're a maniac. Are you a maniac?"
Cooper said, "I'd like that."
Just like that. Out of a zillion days, one moment always rockets toward you when fire flies.
Five years; they wrote each other letters for five years.
***
Cooper holds a finger to his throat, times his wife by heartbeat; she is forty from one end to the other. He's no match for her in the water. Yvonne swam for the University of Maryland and just missed the Olympics in '80. She holds state records in South Carolina, has had her name in Sports Illustrated. Inside the locked baby room at home—she has made it into a shrine for lost things—three scrapbooks are filled with medals, ribbons, certificates of honor. One, dedicated to the trials, has a flattened paper bag taped to a page; inside, fine blonde hairs curl. "Guess where this came from?" is magic markered on the page margin where the deep blue letters have slightly smeared. Cooper put a pinch of his wife's pubic hair—delicate as newborn's—into the family Bible for good luck.
***
Yvonne is nearly six-feet tall, and it's hard to tell her sex from here. She could be anyone. Her weight buoys her, allows her speed. In his head, Cooper practices what he has come to do and is bewildered by this ritual that he is not part of. He sees her as pure passion, imaginative grief in the black one-piece, goggle-eyed, as he crouches, stripped to his underwear, behind the aluminum bleachers. He takes one last bolt of the damp air as Yvonne breaks into a hard freestyle, swimming straight in the middle lane. Cooper crawls out on his hands and knees—like an animal, he thinks—to the ledge where five-feet is chiseled into cement. Without sound, he lowers himself into the lukewarm water and sinks down so that his nose is just above the surface. His urine is warm. It rises in fingers against his chest as he waits for the one he has loved to swim back through the shallows.
***
In how many mirrors have you taken that picture, my angel disguised as your accomplice? Who has given you the explanation of my failings? Are you borrowing my blood for a lie or a prayer?
This, what Yvonne had written after the jobless year, her panhandling spring, her downtime, the year when things fell down and each letter held some reference to the holes in her life. By 1983, Cooper had quit his newspaper job and moved to Fayetteville, where he tried to finish the degree he'd lied about having in a résumé. He was living with a forty-year-old woman who'd advertised room and board in exchange for work, but what he mostly did was drink whiskey with her and hear the endless story of how she'd had oral sex with the Episcopal priest before holy communion, how her husband had gotten himself killed on the road, how sleeping with her sixteen-year-old son was no longer possible because he'd started getting erections. She watched him rake out her gravel drive, stack hay head high in the loft, polish the panel walls, the banister on the stairs all the way to her bedroom. Vague references brought immediate responses from Yvonne.
People from Arkansas lived in places named Smackover, for God's sake. Yvonne prodded, sometimes writing whole passages in the bumpkin dialect she'd picked up from Mayfield's home people on the Hill. For his part, Cooper drafted and redrafted each letter, longhand cursive on rag paper. He sent Yvonne lyric poems, and even wrote a story about what would happen when they met. The narrative prophesied a wedding in a temple, how the small beads on Yvonne's white dress would look as light filtered through stained glass, how she would laugh at the instant when he said "I do."
Here is what I want you to do tonight instead of screwing your keeper, Yvonne wrote on the onion-skin page of a letter she claimed to have panhandled stamps for. She had enclosed a charcoal nude of herself—the only likeness he ever knew of her until the day they met—along with a marijuana cigarette. I want you to put on your best suit of clothes, comb your hair straight down and perfume yourself with your best cologne. Turn the lights out and pull down the stained shades. Shut the doors. Lock them inside out. Tape me to your headboard and burn a candle close enough for the light to flicker, to jump across my contours, my roughness. Light the joint, smoke until your head swims. Let me come alive for you. Touch my paper heart, harder, smear me with two fingers down to there, see how I take you, how your fingers print me. Strip, slowly, one garment at a time as you must for a lover. See how I look you in the eye and shiver. Shut your eyes and feel my kiss on your lips, my tongue in your mouth, in the hole where you miss a tooth. Feel me cup the small of your back and listen to how my breath quickens, then stops. Blow the candle out, cover yourself with the thin sheet, see us love. Rock with me. Remember. Who to say no?
***
From this level, Cooper can hear the sharp exhale and inhale she makes on every third stroke, see that his great-grandmother's wedding band is missing from her left hand. Yvonne wears no bathing cap. Her blonde hair is darkened by water and slicked back over the crown of her head, so that it looks even shorter. Cooper holds a breath. He has the sensation of being half-in and half-out of himself. Yvonne is swimming in his direction now, lurching in the backstroke that makes her vulnerable, blind to the distance between her and the wall she must use to flip. A bubbly wake skeins out behind her, fine as the lace wedding train that caught and ripped as they guided each other away from the pulpit. Cooper wants to warn her of her progress, to caution against the concrete that could break a finger, arm, split the skull. He restrains himself and, at the last possible second, as if she has some inborn knowledge of the invisible thing that she's up against, Yvonne spins into a perfect flip, blooms under the onion- scented water.
***
They met at the foot of a neon cross, one breathtaking Easter Sunday morning on the last day of March, 1986, just as a small group of worshipers kneeled to pray for the souls of the astronauts who'd exploded in the Challenger takeoff. Yvonne had flown from D.C. to Tulsa International, rented a car and driven to Fayetteville where she intended to hand deliver their fiftieth letter. Mount Sequoyah, which overlooked Fayetteville, Arkansas, the town Yvonne referred to as Fateville, was the site of a Pentecostal church camp. Loud icons were situated in the blind spots of every sharp curve to surprise sightseers on the scenic route. White-faced Mary wore red lipstick; Jesus was rigged with a tape that repeated "I am risen. I am risen," as if surprised by this stroke of good fortune. A slight wind stirred his purple robe, stained with chicken blood. Cooper chose this place because one could make out church steeples dazzling the valley below, how the glass covering the sword-like hands of the courthouse clock blazed; Yvonne would be able to see Cooper's own tin roof, how the foothills knuckled into the Ozarks toward Missouri.
As a tall, black-headed man offered up the words to the Lord's Prayer, a silver car rolled to a standstill on the road above. Cooper's heart accelerated as the engine got killed and the woman he'd revealed his most private secrets to stepped out into the strong sunlight. She threaded her way through the kneeling Pentecostals, come to the neon cross for the prayer of resurrection, touching the shoulders of three younger men so that their eyes flung open as if shaken from dream. The flesh and blood Yvonne ran circles around any charcoal nudie. She was something to see. Tall, she carried herself with the conviction of one who comes from someplace important, bearing integral news. Her hands. Look at them, see how the fingers curl, bend, flex as she writes, marks the hard C's loop into the flowing S, The thumb and index fingers come together, hesitate, before the stamp is touched to the tastebud tongue, the sweet spot and blown dry. Jesus. The eyes he'd once smeared on coarse paper looked straight through him, they knew and knew and knew him, discerned him by elimination, were brimful of knowing. How can you say it? Where do words go? She was close enough to breathe in, to taste, to be.
One at a time, she'd brought their eyes open, nodding when they shook their heads no. Cooper sat cross-legged on green grass, just beyond the stone benches that formed a crude perimeter around the blinking cross. He wore cotton, razor-creases, had brought an unopened bottle of Wild Turkey. He lit a cigarette, sucked teeth, fought with his coward self.
"Are you him?" She wore bracelets on her wrists.
Cooper said he was. He stood, shook, said, "Here."
"Good," Yvonne said. She placed a liter wine bottle beside his liquor and kissed the side of his face. She smelled like nothing he knew. "How long does it take not to be lost around here?"
He'd rehearsed what seemed stupid now. "You're lost?"
The sun hit her skin when she took off the jacket. The Pentecostals were used to this sort of thing. "All goddamn morning. Do they have bathrooms here?"
They sat together beside a bench, two people.
Yvonne said she could wait. "They screwed my directions from Tulsa. I had breakfast with a trucker who knew and knew and knew how to get me here. What is it with truckers?" She lifted arms, palms up. "I'm here. Tell me why?"
"Happy Easter," Cooper said. "Any other trouble? How was your trip? My father's a truck driver."
"You never said that. You told me he owned land."
"Want a drink?"
She said, "Yes I would, Smith. Please. A little."
Yvonne unslung a camera that had been invisible and started clicking off pictures while Cooper poured and drank his. The dark-headed preacher's voice rose and fell, a cadence which held within its pitch the whole barbed-wired world, the rain-on-tin sound of Cooper's people. His oratory was filled with ringing allusions to the LORD GOD ALMIGHTY whose heavenly mansions were cemented by the blood of the lamb.
"Cheers," Yvonne said. She knocked hers back, handed the glass to Cooper, then snapped a few shots of the preacher who was leading a spirit-filled rendition of "I'll Fly Away." Yvonne let the camera fall, and clapped along. "These people are out of this world, Smith. Who are they?" She took off her sandals. Her feet looked like a dancer's.
"Holy roller campers. Here's to you coming."
Yvonne touched Cooper's boot with a blistered foot. "Say something to me that matters. I want to remember."
"You saved my life with those letters. I keep them. We know each other inside. You never judged. I'm treating you like a queen this week, Yvonne. That's something to remember."
"Take this and remember me," Yvonne said. She told Cooper to shut his eyes and he did. Then, for a minute by the clock, she touched his face with her fingers. She traced the buckle of his chin, the hawked nose that had once been broken, the widow's peak high on his forehead. It was like she was blind and wanted to know him; who had ever touched his face? "Hallelujah," she yelled, only half-mock, so that several of the Pentecostals glanced over, as if they were part of the wayward flock.
Cooper pointed out the visible landmarks, showed her the direction to Little Rock, to Petit Jean Mountain, to D.C.—where he'd once driven toward only to have a hitchhiker tell him he was crazy to run off to a woman he'd never even seen. He told her about Eureka Springs to the north, where a hundred feet tall Christ of the Ozarks drew crowds from around the world. Yvonne got Cooper to stand up straight, arms flung outward over the city below, and took his picture. They drank to what had been confessed in their letters, to risk, Wayne Coomers and the Original Sins, to the dangers of how they loved. Then, Yvonne slipped the fiftieth letter from her coat pocket, slit it with a fingernail.
"My dear Smith," she said, just as the air burst into a cacophony of what sounded like a thousand bells ringing up from the churches in the valley below, Fateville. "I have loved," Yvonne said, but her voice was lost to the evangelical's discord, shouts in strange tongues, the singing clamor knifing up from each bell, all rolled into a single harmonic vibrato that was offered up to the bare blue place where words go. Yvonne lipped the words of their fiftieth letter into this sea of sound, and Cooper could tell by her strong expressions that she was revealing some long-kept key to her heart. She seemed to speak of the distance love carries, how we send our hope out into the great unknown places. Years later, when he finally realized what she had tried to tell him, but doubted that such a moment had every really happened, Cooper would fight to reclaim the sheer kick of the instant when this woman who knew him to the crooked core had opened up her mouth, and out had poured glory.
***
Cooper takes a breath of heavy air, lets his body slide down the slick wall to the pool floor, where he sits eyes wide to the chlorine burn. He has read how the voices of whales carry three-thousand miles under the ocean, how they sing warnings and songs that translate into joy, or even love. The idea of messages sent out across murky channels does not lose itself on Cooper, now. Through the green haze, he can see his wife butterflying, aflutter on the plane that separates them.
Cooper's heartbeat quickens; he must choose words carefully. Don't you dare, he says into the water. I love . . . he manages as she passes. His voice sounds nothing like the music of whales must. What Cooper hears is an eerie glut that reminds him of people who've lost larynxes, who speak through amplifiers held tight to vocal cords. You listen to me, Cooper says deep in his throat, breathing water. Yvonne powers away.
She has quit listening.
***
Cooper proposed. They were still out of breath from the steep hike to a flat rock that overlooked a bend in the White River where nude sunbathers lay glistening on rocks in the stream.
This was Yvonne's seventh and final day in Fayetteville. She had carefully packed a picnic of Camembert—it reminded Cooper of baby shit—bread, balled melon and red wine for their last meal together before her departure that afternoon. That morning, Cooper had allowed Yvonne to photograph his ass while standing naked on a tree stump. "Let's get married," he said.
Yvonne laughed out loud. The question was ridiculous. "We haven't even lunched yet, Smith," she said. "There are nude people down there."
"Naked," Cooper said. "Say yes."
Yvonne unzipped the day pack, set out two coffee mugs. She turned the bottle into the screw so that it squeaked. "You're crazy." Yvonne frowned. She poured three fingers into each mug. "And I'm crazy, too."
Just then, a long scarlet-orange king snake winded its way across the rock, dragging skeins of shed transparent skin. Yvonne reached out and tore away a length of scaly skin.
"Snake. Don't touch that snake."
"You think you know me." She wrapped the wispy skin around a finger, the sound like wind through October corn. Nearby, a dove sounded a thin whistle. Hyades would predict hard rain tonight.
"Reptiles mean good luck. I've heard."
It was a spring morning in April, in north Arkansas, on a river where people without clothes on took the sun. That was how it seemed. Holy.
"I don't care."
"Fine. Sure. Why not?"
So they drew their plans on a flat rock where a snake had crossed, interrupted by an occasional yelp from a bather who'd jumped into the current. Cooper could sell his cherry bed, his grandmother's chifforobe, for airplane cash to D.C., where Yvonne's apartment had a room with a writing desk. He'd get a job, something that would get him on her mother's good side. He'd meet the Captain, her strapping father, a three time destroyer boss who'd schooled at Annapolis. They'd spend a week in summer at Ocracoke Inlet, the family beach house, where Blackbeard once harbored and the Atlantic was money-color green. They'd visit the Netherlands where Yvonne had friends, connections, an old lover. They'd smoke hashish, screw on soft cotton, live in Adams Morgan beside a robowash where embassy limousines got washed each morning. And maybe they'd say vows in the National Cathedral where Yvonne had been confirmed, a priest unlike the rough man who'd bellowed on the hilltop.
"This is my ring." Yvonne slid the snakeskin onto her ring finger, held it to a sun shaft. "Like the story you wrote: The Book of Lies."
"You'll giggle when I say I do." They kissed on the mouth, her tongue deep in his, and Cooper was ashamed; all his jaw teeth, the molars, were gone. "You're dooming your child to dentures," a dentist once told his mother.
"Get a load of this." Yvonne pointed out a pair, a couple, you couldn't tell, on a rock downstream. One was on hands and knees, and the other surged behind, head thrown back, white-eyed, intent. They came together, about them the whish of the river washing past carved rock banks, toward the muddy Mulberry, where the two would twine with the Arkansas, join the Mississippi that emptied into the deep silt flats in the Gulf of Mexico.
"Look at them, Cooper," Yvonne whispered, as if their act was a holy thing. "They're in love." She touched him.
Cooper watched it happen. Afterwards, the two—as indistinguishable as twins from this distance—stood upright, holding hands on the jagged ledge; they leaped out together, caught in an arc of momentary flight.
***
Near the far end of the pool, where the floor drops abruptly to fourteen feet and is printed by the fingers of divers who have broken their falls, Yvonne is beginning her kick. She somersaults against the wall and blossoms into the stroke that initiates a battering four-lap medley of back, breast, butterfly, and the free that will bring her sprinting home. She is motion blurred, a sting in his red eye. This is what he has come for; whatever thoughts have blistered Yvonne's mind vanished now; her only conscious thought is to finish, to win this race she reenacts, this ritual for the child she has lost. Cooper deep breathes. He knows that the outside world mirrors the morning they met—the pure pitch of peripheral prayer, dogwood ignited on unfurled tongue—and he knows the future, how they will suffer each other in silence and how Yvonne's slammed-shut room will fill and fill, how they will awaken and awaken until nothing is left of them but the long sleep under stones already carved in the Solgahatchie cemetery. Down their carved names the raindrop plows. He must take hold of the adversary. Cooper heaves in one deep breath after another as Yvonne's shoulders, her big back break the calmness, as her arms slice air. She is near. Cooper fills his lungs one last time, lets himself coil under the water, and springs forth.
***
He'd flown into Dulles International with seventy five dollars, two broken typewriters, books, a desire like a great fear in his head. An ongoing poem lyricized the seven slow days since Yvonne's departure. When you take the lost road, he'd copied, You come to the snow and when you find the snow You get down on your hands and knees Like a sick dog That's been eating grasses of graveyards for the Five scenic years. When you take the lost road You find a woman Who has no fear of light Who can kill two cocks at once Light which has no fear of cocks And cocks who can't call in the snow. You find Lovers who've been listening For the same roosters to sing For seventy months. Roosters that have swallowed stones Out of each other's tracks. I saw two security police cutting out a man's balls And I saw two crazy boys Crying by the road who wouldn't go away. When you get lost You come to the moon in the field The light all lovers soil.
Yvonne met him at the rowhouse door, 1705 Euclid Street Northwest, the address he knew by heart, had written as if prayer. He smelled like dope, she said, like whiskey. She took, read his poetry, thought him mad, asked if he had money, a cigarette, then made love to him on an unmade futon that smelled like Brüt.
In Washington D.C., Yvonne taught the emotionally disturbed —eight, nine, ten-year-olds—at an Arlington grade school, sometimes rode the Green Line home to the 12th and N Street rowhouse, where they'd moved together, to demonstrate discipline techniques on Cooper. Evenings, nights when sirens howled, they drank in a bathtub jacuzzi to slow horn music from a cracked front room speaker that Cooper had wired to a pawnshop phono. He'd been hired at a restaurant called New York, New York where Sinatra's version played every nineteen minutes on the dot. He made money. They bought a car.
Their story was the strangest thing they'd ever heard.
Yvonne had friends in faraway places.
On the morning after the Fourth of July, as Cooper dressed for work and sang the Hare Krishna song—a shaved-headed troupe of them had fed out curried rice on the Capitol mall before fireworks the evening before—a foreign voice sang Yvonne's name through the intercom.
"You are the lover, no?" the thick voice said. "1215 N Street. Northwest. She wrote me to come here. See?"
Cooper looked out the bay window; below, in the courtyard, stood a bull-chested man whose white face mooned up under concrete blonde hair. He waved an envelope, pointed to an invisible address, nodded.
"You a bill collector? Bill collectors can go to hell."
"No, no, no. We are friends in Netherlands. Vonnie tells me to be here."
Cooper shuffled geography in his head, while the distant voice rattled off a story about selling belongings, making a month-long voyage across the great Atlantic in the belly of a freighter. Cooper looked down at the man who told how he had not guessed how strange this United States would be, how he only had seventy-five American left to his name, and Yvonne had promised. "Please," the sweet sounding voice said. She was the only soul he knew.
In his heart, Cooper Smith felt kinship for this stranger who'd sold earthly possessions and weathered the rough width of an ocean to be with the intoxicating voice on the other end of astounding letters. Despite the wear of travel, he was handsome, and Cooper guessed him decent.
"There is no Vonnie here," Cooper said. "Go back where you goddamn came from."
For a moment, the two regarded each other, just long enough to understand something about what had brought them there, how they loved. Then Cooper drew the blinds, saw how the lost Dutchman walked away, toward no place in particular.
Cooper skipped work that morning, bought a fifth of whiskey, and meticulously urinated on every letter he and Yvonne had ever written to each other. He tied the sour bunch together with one of Yvonne's ribbons and replaced it in the cedar hope chest at the foot of their bed. Later, when she unlocked the front door, Cooper was dog drunk, pouring over the letters from six other men he'd ferreted out. He magic markered exaggerated slashes over subjects that rang a bell. One was an Amsterdam postmark retelling the time he'd undressed in front of a charcoal sketch. Smoked dope. Jacked off. Cooper could hear the man speak. This was the letter he assaulted Yvonne with when she asked him what in hell he was doing. Cooper took his wedding band off, put it in his mouth, swallowed. She threw a glassful of whiskey in his face, and they shouted every curse they knew, they crossed the line, they said things. When the police came, Cooper pretended he couldn't speak English. After dark, they made furious love on the hardwood floor amidst shards of broken glass, ripped up pissed on letters, because it was the one thing they had left to do.
So they talked it out. Outside, where sirens bleated on the alphabetical streets, beautifully made transvestites helped prostitutes apply rouge.
***
Cooper knifes under the shallow water. A high keen whines in his ears. Volts of juiced blood rip through the veins in his outstretched arms, out through his forked fingers. His nails seem sparked beads, clear acetylene fire. Yvonne's round shoulders churn in the corner of his eye; the whiteness of her skin flashes. His calculation is perfect. He can almost touch her and, if water were air, a howl would quaver the rafters.
***
"I loathe you. No matter what I ever say. It's true."
Yvonne said it as Cooper shifted gears on the U-Haul truck—"an adventure in moving"—they'd rented for the long move to North Carolina. He'd been accepted, was about to make good on his promise to get degreed. "You have no right."
Cooper said, "You don't mean that." It was hot as Hades inside the unairconditioned vehicle.
It was top-heavy. Yvonne was petrified of being trapped in a hulk of burning metal. She'd dreamed it so. Cooper reminded her, said that they needed to get away from the war zone they'd created for themselves in D.C. They had to establish themselves somewhere in-between each other's old selves.
"I know that, Cooper. Goddamnit," Yvonne said. "You owe me. You owe me and you know."
"What?" They were in Carolina. FIRST IN FLIGHT, the sign said.
She said, "I loathe you."
"Me too."
And they drove on that way, the tall truck teetering on asphalt so hot the tire treads printed the pavement.
***
Now, he can see her wrinkled palms, the white goggle strap that constricts her head, how the dark suit crawls up the halves of her bottom. She's fast. Cooper kicks through the last foot that separates them, dizzied by the searing keen, the roar in his head. He can see the tiles on the far wall, how the filtered water jets out from eyeball fittings.
His hands on her throat, the skin of a dream, Cooper's only thought is to struggle free, to claw himself deckside, to breathe again.
***
North Carolina. They rented a house on a street named Vista, grew tomatoes, peppers, crookneck squash, walked in the evenings, got a dog, made peace, saved, spent, spent weekends on the Outer Banks where cross-eyed folk spoke cockney English, and forgot. Yvonne worked at a high school, was a swim coach, directed prom proceedings. Cooper plowed straight through his Master's and got a job lecturing history. They prepared a room in the big rent house for the child whose conception had brought showers of bright blue baby things from well-wishers.
***
We dress our dead too carefully is what Cooper thinks at the moment when they intersect, his mind split—bloodied by lack—so that half of him desires nothing more than to see the woman float on the pool floor, and the other part desperately wanting to touch her and say his love as he never has before. This is what we come toward always, hands on her neck, her face, their one face hot.
***
Six days have passed since the last love letter Cooper would ever allow in his mailbox. He retyped it—a dainty envelope from Colchester, Vermont—into the form of an obituary, taped it to the head of the bed where Yvonne slept. The bitter fight that erupted afterward ended when Yvonne miscarried. She locked the room full of baby things from the inside, wrote I am a Fool on the door with black marker. They blamed each other for the day they met, for the idiotic naivete that had urged them to marry.
***
They wished each other dead.
Cooper tried to drive all this from his head as he drove to the pool today, where his keys still hang in the door's lock, where he hid himself behind the bleachers, where he's watched her spin into tight, predictable flips.
This is where she mourns her dead. Cooper dreams, turning loose, dear god, she swims.
***
His eyes are open to the brilliance of an azure sky, where Yvonne's gentle face hovers just above his own, where her hands, her fingers, in his mouth.
One. Two. Three. She keeps counting. Her lips, human lips. Seven. On his mouth. Everything's okay, everything's okay. Her words go inside him. Eight. Through his mouth.
His body is someone else's. He smells flowers, Yvonne's skin, honeysuckle in the gutter, vomit.
Why are you here? She's putting her fingers in his mouth, training his tongue away from the roof. He hears Jesus then fuck. Just words.
Over Yvonne's shoulders, the belfry clock on top of bright Founder's Hall. The world is newly deformed.
She kisses him, slight wrinkles at the corners of her mouth, says wake up wake up wake up.
His feet touch the deep clover where Yvonne has dragged him. Cardinals make a ruckus in a nearby dogwood which quivers in white hot flame, unconsumed.
I drowned you. Something like I drowned you comes out of his mouth. Cooper's eye see her eyes.
Yvonne pounds his chest—hollow wallops, endstopped lines, each a revolution. She's pounding his chest with both fists flying the color of big beautiful lips. Shut up. Shut up. Shut up. She says, "Goddamn you, breathe. Take breaths."
The sound, rasped S's, articulate razors, who to say no?
I said breathe.
(Photo by G. Fisher)