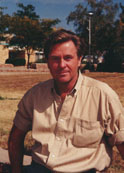 Jack Butler is the son of a Southern Baptist minister. He was born May 8, 1944, in Alligator, Mississippi, just off Highway 61 in the Mississippi Delta. It was in Clinton, Mississippi, as a high school sophomore, that he discovered his love for writing. He lettered in track in high school, and in track and cross country in college. He lived primarily in Arkansas for twenty-five years, since attending the University of Arkansas in the early days of its widely-recognized Creative Writing Program. In 1993, he moved to Santa Fe, New Mexico, to accept a position in Creative Writing at the College of Santa Fe.

In the past, he has worked as a Southern Baptist preacher, a fried-pie salesman, an actuarial analyst, and the Assistant Dean of a college. The father of two girls, Lynnika and Sarah, Mr. Butler is married to Jayme Tull, a native of Little Rock, Arkansas, and stepfather to her daughters, Catherine and Sherri. He enjoys running, swimming, basketball, camping, travel, physics, math astronomy, drawing, painting, and cooking (he writes food columns for Country Home magazine, and has published a cookbook).

Among his books are Living in Little Rock with Miss Little Rock (a novel) and New and Selected Poems (forthcoming).